The Living Design Foundation, Inc. supports robust educational experiences that help to create informed, skilled, and participatory citizens. In every community there are gifted teachers and innovative programs that have a profound, beneficial effect. They help us change the way we see and navigate our world. They inspire independent critical thinking. They are transformative.
Our purpose is to support these teachers and to provide needed collaboration and resources. It's not at all easy to teach toward the "outcome" of a life-long benefit. Beyond the subject matter of a class, there are those who inspire the love of learning for its own sake. They reach inside to the 'wide-eyed learner' within. They encourage keen examination and critical thinking.
We support learning that is designed to make its way beyond the classroom walls.
The challenge is to prepare our youth for a fast-changing world. Chances are, they'll be working in an organization and at a job that doesn't exist just yet. Invention and innovation are increasingly group activities requiring excellent communication and collaboration skills – all moving at warp speed. They'll have to recover quickly from failures. They'll have to adapt, learn and re-learn, and then re-learn again. They'll have to embrace balance and perspective.
Our model begins with "Happy, Healthy, and Productive." We evaluate submissions and requests for funding with that simple axiom in mind. How will this program help a person live a happier, healthier, more productive life? Then we delve into the particulars to understand its curriculum design, its tools, goals, and progression toward desired outcomes. And we ask, "Is this designed in such a way as to be transformative, and is there any history proving that?"
In our view, one key indicator of a successful program is an increase in the willingness and ability to 'give-back.' If participants are more adept at caring for themselves and their families, if they are more willing to participate and contribute back to their communities, then, in good part, we'll consider that a success.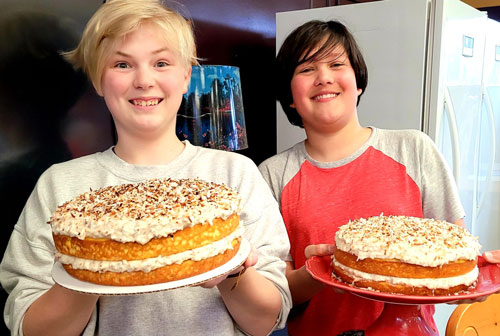 Living Design Foundation
The foundation was established with the purpose of aiding gifted teachers and community-centered programs in curriculum development. Over the years, the foundation has partnered with school districts, court systems, and other organizations to bring transformative learning to students, through engaging opportunities that teach self-sufficiency and collaboration.
"I think it's interesting that everyone has a unique experience in the class, even though we all take the same class, at the same time, students each come out of it with completely different experiences and skill sets. "

"I think this is a great class and I thank you all for the effort you put into this class. This class will stay with me for the rest of my life."

"To be honest, I really didn't want to take this class but now looking back, it was a true life-changer. All in all, I think this was an amazing class."

"I will never be able to express how thankful I am for the confidence that this class gave me. Before this, I had never used a power tool, never actually cooked anything, because I was terrified. And that means so much to me… because the world doesn't seem as scary anymore."